Front Wheel Replacement (8.5" x 2.25")
Elite/Elite Pro.
Elite / Elite Pro Front Wheel Replacement Video
‍
The 8.5" x 2.25" Front Wheel is sold fully assembled and will need to be replaced when the tread wears out or the tire no longer holds air.
‍
‍
It is recommended to perform an alignment after the first front-wheel replacement by following the steps outlined in the Front Wheel Alignment Guide. This will ensure the longest tire life and best steering performance.
Required Equipment
‍
Recommended Equipment
Loctite 242 (removable threadlocker)
Torque Wrench + 8 mm Hex Bit
Procedures
‍
Wheel Removal - Loosen and remove the wheel bolt with an 8 mm Allen by turning the wheel bolt counterclockwise.
Install the New Wheel - Install the wheel bolt into the new wheel and tighten very firmly with an 8 mm Allen making sure the drive arrow points forward when at the top of the wheel.
It is highly recommended to use Loctite 242 (or a similar removable threadlocker) and the recommended torque spec is 40 Nm (30 ft-lb).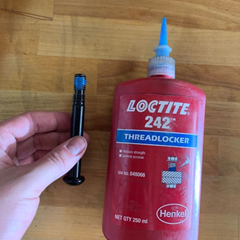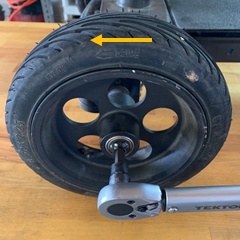 All-wheel bolts come with a red Loctite patch on the threads that are rated for several reinstallations, but it is highly recommended to apply more Loctite as a secondary‍ measure for keeping the bolts tight.
Inflate Tire - Inflate each front tire to 35 psi.
Before every ride check the front wheels by tilting the board to the side until one of the front wheels is off the ground, grab the wheel with one hand and shake side to side making sure each front wheel bolt is fully tightened.
Have more questions? Contact support@cycleboard.com